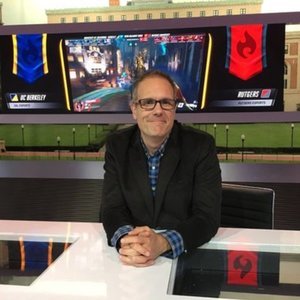 Chris "Doc" Haskell
Special guest
Dr. Chris Haskell of Boise State University, Boise, ID, is the Head Coach of the Varsity Esports and Associate Clinical Professor at Boise State University. As a professor and researcher, Chris also focuses on the impact of videogames, virtual worlds, social media, and digital culture. Dr. Haskell teaches his classes in Minecraft and World of Warcraft. He created a course about Facebook, Youtube, and Memes. In addition to overseeing and having winning records in five of the biggest collegiate esports titles, he helps oversee the independent broadcasting of over 200 hours of original esports content on its twitch channel which is by far the most of any collegiate esports program. Dr. Haskell has done a great deal to push forward positive recognition nationwide for esports. It has been a goal of Dr. Haskell to create a sports-like experience for the viewer and through the professionalism of the casters and hosts. This is further supported by the talent in the broadcast room, providing on screen graphics, replays, and a multi-camera setup that captures every moment during a match to create an end to end story. Dr. Haskell's success stems from a level of dedication and work ethic that is second-to-none. Dr. Haskell has created a model at Boise State that every collegiate program strives to resemble in some way. The culture of the program gives any student on their campus the ability to achieve their esports dreams, as well as their academic dreams, if they are willing to put in the work.
Chris "Doc" Haskell has been a guest on 1 episode.
January 8th, 2021 | 47 mins 56 secs

boise state, college esports, doc haskell, esports news, esports podcast, esportz network, high school esports, league of legends, nace, overwatch, rocket league

Everything you need to know about college esports. The best teams, scholarships, programs and companies turning esports into the newest sport on many college campuses.